Special thanks to Pete in JetC16 for this pic!
click above picture to go to fanfiction index
I've won an Award...my first...scroll down to see it and what it was for!
Chakotay: What have you done with Kathryn?
Kathryn: That unit no longer exsists. I am V'Ger
---
Back to front page
of site to enter Chakotay's logs, Voyager Funnies, Stained Glass Series and Sandrines Repretoire.

---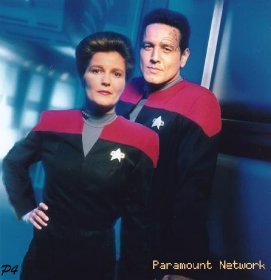 Don't we wish?!? Special thanks to Pete at JetC16 for allowing the use of this pic!
This award comes from Lady Dameon in JetC 15. This is for my dark, comedy, Dark Desire my third NC17 story and as far as I know, barring episode additions, the only fanfiction dealing with the A/U in "Living Witness". Go, read now!
---
Star Trek: Voyager and all characters and referances belong to Paramount Pictures. No infringement is intended.
(C) All stories are written by me, Mindy. May not be reproduced electronically or in print form without my express permission. You may save these stories for your own enjoyment. Just keep all disclaimers and headers in place. (1997-1999)
---
Any comments, critisms, flames? Do you want to be e-mailed when this page is updated? Then contact Mindy
---
This page last updated stardate 9907.06